Hosted live at "bokula., 8/15 (Tue) Osaka BananaHall", performers unveiled!
Hiroshima-based life-size rock band bokula. has unveiled the artists who will perform at the live show "After School Dreamers" hosted by Osaka Banana Hall on 8/15 (Tue.). Performing artists are moon drop, Kujira Night Town, Blue Mash, and Lana.
The second advance ticket (lottery) for this event is being accepted until 23:59 on Sunday, July 9th.
Check out the band's official website for more details.
[Gt.Vo. Ei comment]
``After school, I rush to work and go to my daily life without being bound by school ☆,
dreamy place. Kokodesu!!" We are waiting for you!
[Live information]
bokula.presents "Houkago Dreamers"
2023/8/15 (Tue) Osaka Banana Hall
OPEN 17:15 / START 18:00
[Cast] bokula. / moon drop / Kujira Night Town / Blue Mash / Lana
[Ticket] Advance ¥3,800 (separate fee for D)
▼Secondary advance (lottery): 6/26 (Mon) 21:00 to 7/9 (Sun) 23:59
▼General release: 7/15 (Sat.) 10:00~
Reception URL:https://eplus.jp/bokula0815/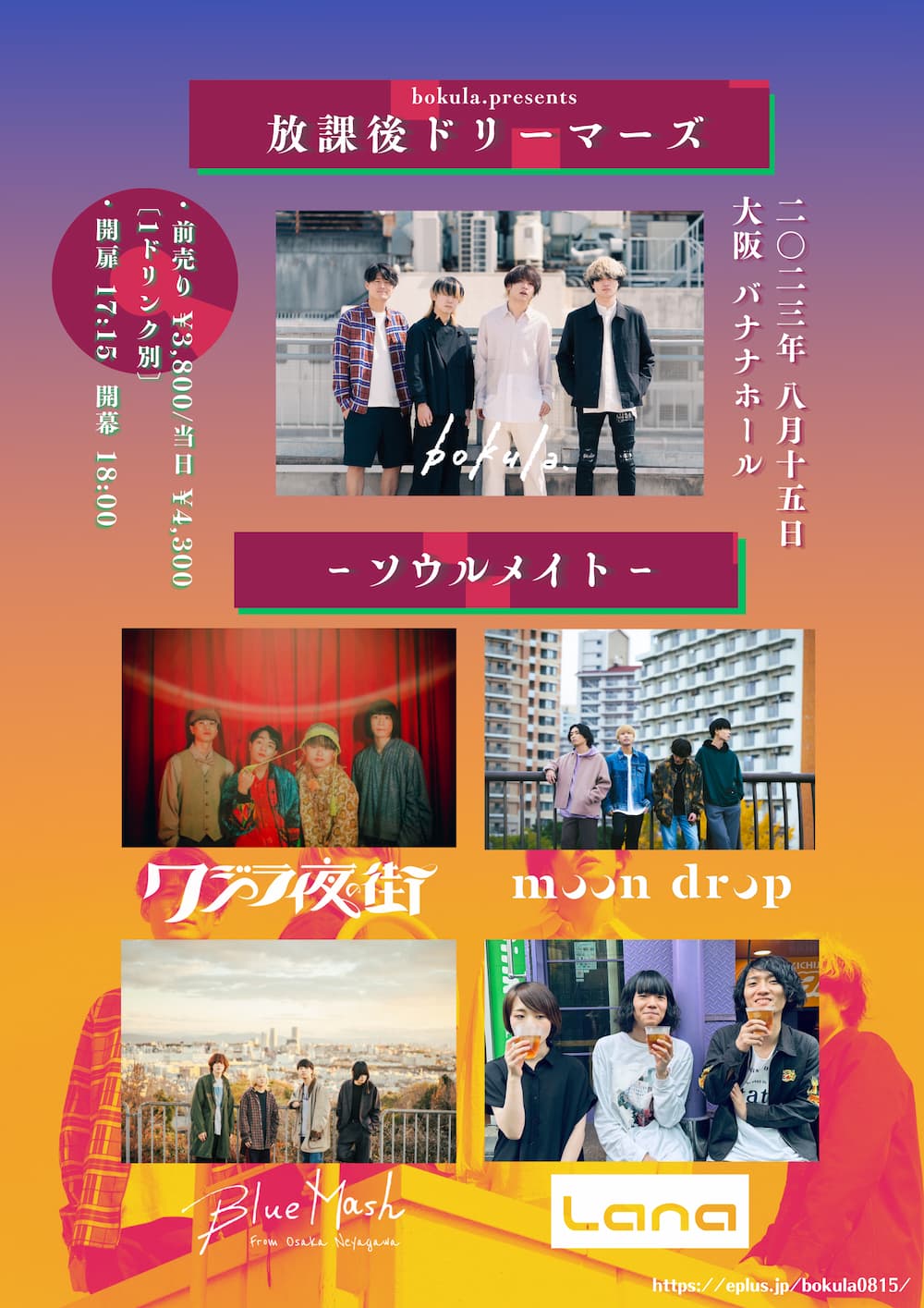 [bokula.Profile]
A four-piece, life-sized rock band from Hiroshima.
Formed in May 2019 around Vo.Gt. Eito and Gt. Kaji.
It features the straightforward singing voice of 21-year-old Ei, who writes and composes lyrics, lyrics that cut out everyday life that everyone can relate to, and catchy melodies.
Contrary to the fresh band sound, the lyrical live performance also attracts attention.
<<bokula. OFFICIAL SITE>>
Web: https://bokula.jp/
Twitter: https://twitter.com/bokula_bandmate
Instagram:https://www.instagram.com/bokula_official
TikTok:https://www.tiktok.com/@bokula_official?_t=8Y8OW6ZpYZd&_r=1