Push Pull Pot from Kanazawa will release 3rd mini album and release tour on 12/13 (Wednesday)!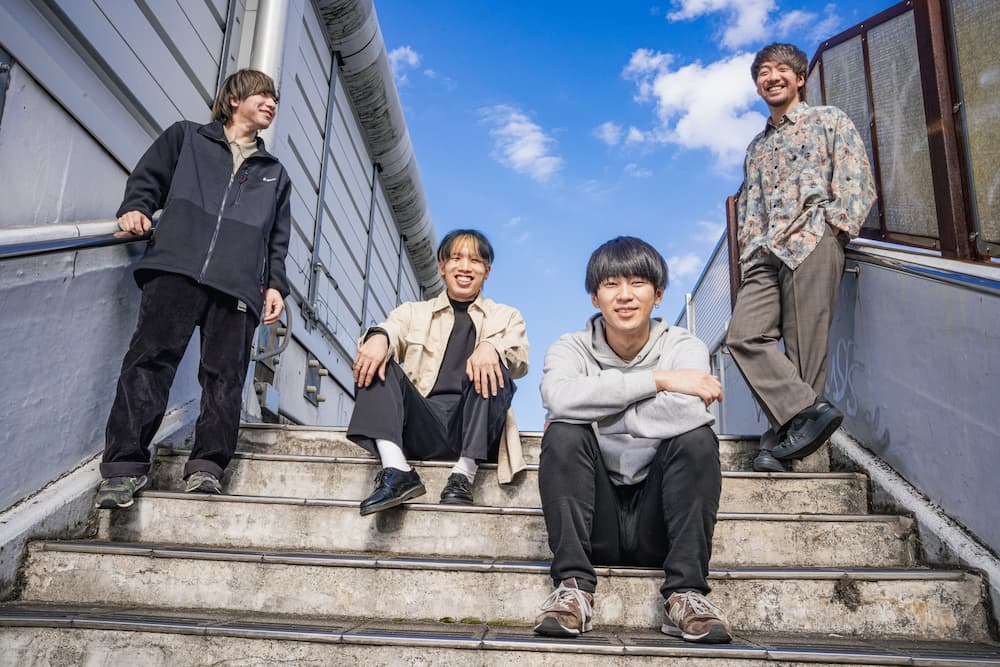 A 4-piece hot rock band from Kanazawa City, Ishikawa Prefecture, Push-Pull Pot,
They announced that they will release their 3rd mini album on Wednesday, December 13, 2023, and will hold a release tour.
This work is the first release in about 11 months since the 2nd mini album "Kodo" released in January of this year, which won first place on the national TSUTAYA J-ROCK section weekly chart and was selected by Tower Recommend. A total of 7 songs will be included, including ``Unstable Boy'' and 6 new songs.
If you reserve the CD at Tower Records/HMV by October 27th (Friday),
As an early reservation bonus, you can get a ``postcard with a member's autograph''.
Along with the release, it has been decided that a nationwide tour "Hiace Hiace Tour" will be held.
Starting with Chiba LOOK on December 19th (Tuesday) and ending at Kanazawa EIGHT HALL on March 31st (Sunday).
They will perform at a total of 27 locations, including 10 one-man performances, including their first one-man performance in Tokyo, Meihan, and Quattro, and 17 performances with a band.
The earliest ticket lottery advance reception will be accepted from 9/23 (Sat) 10:00 to 10/15 (Sun) 23:59.
https://eplus.jp/pushpullpot/
Check out the album special site for details.
https://stayfreeee.com/pushpullpot-3rd-mini/
【release information】
■3rd mini album
"Title TBD"
Released on Wednesday, December 13, 2023
[recorded music]
"Unstable boy"
6 other songs
Scheduled to include 7 songs
Price ¥1,980 (tax included) / LDSF-00013
■Early reservation original benefits
"Postcard with members' autographs" (common to both companies)
・Target stores: TOWER RECORDS / HMV
・Reservation period: September 21, 2023 (Thursday) 22:00 to October 27, 2023 (Friday) Closed/Online 23:59
*Pictures will be released at a later date
■Online reservation page
・TOWER RECORDS:https://tower.jp/item/6186540
・HMV:https://www.hmv.co.jp/product/detail/14309114
<3rd mini album special site>
https://stayfreeee.com/pushpullpot-3rd-mini/
[Tour information]
push pull pot
"One-on-one tour with Hiace"
[ticket fee]
Advance ¥3,500 / On the day ¥4,000 (excluding D fee)
■Fastest advance (lottery)
Reception period: 9/23 (Sat) 10:00 to 10/15 (Sun) 23:59
Reception URL:https://eplus.jp/pushpullpot/
[Push-Pull Pot OFFICIAL SITE]
Web:https://pushpullpot.aremond.net
Twitter:https://twitter.com/pushpullpot
Instagram:https://www.instagram.com/pushpullpot/
TikTok:https://www.tiktok.com/@pushpullpot
YouTube:https://youtube.com/@pushpullpot
subscription:https://orcd.co/pushpullpot
[Push-pull pot profile]
A four-piece rock band from Kanazawa, Ishikawa Prefecture.
The members are Vo.Gt. Daiki Yamaguchi, Gt.Cho. Takuya Kuwabara, Ba.Cho. Kazunori Horiuchi, and Dr.Cho. Ryutaro Myojin.
The band's concept is "everyone gets along".
It was formed in the university's light music club and became the current member in 2019.
In 2021, STAY FREEEE!!!!!!!! will release the first nationally distributed mini-album ``Bokura Mama de''.
In January 2023, the 2nd mini album "Kodo" was released and a tour was held in 11 locations nationwide.
All performances in Tokyo, Nagoya, and Kanazawa, which will be his first solo performance, are sold out.
In August, the first sponsored festival "Shofuku Zessho FESTIVAL" was held at Kanazawa EIGHT HALL and was sold out.
The gentle yet powerful singing voice of Vo.Gt. Yamaguchi, who writes and composes the songs, the gem melody that is sure to be a sing-along, and the passionate performance that directly shakes the hearts of the viewers have become a hot topic, and circuit festivals around the country have repeatedly restricted admission.
Although based in Kanazawa, they perform over 120 live shows a year and appear at large festivals such as ``Million Rock Festival'' and ``SWEET LOVE SHOWER,'' steadily spreading their name throughout the country.