Hiroshima-based bokula. releases the music video for "Girl Blend" from "Phantom youth" released on October 11th (Wednesday)!
Hiroshima-based 4-piece band bokula. has released the music video for ``Girl Blend'' from their 4th EP ``Phantom youth'' released today, October 11th (Wednesday).

In this music video, Gt.Vo. Ei takes on acting for the first time.
In keeping with the worldview of the song, which has the theme of ``being made to dance with the palm of your hand,'' Ei himself plays the role of a romantic relationship between a man and a woman he met at a ``home party that he was invited to by a band.''
In addition, to commemorate the release of "Phantom youth", a live photo panel exhibition and limited goods sales will be held on the 2nd floor of SHIBUYA TSUTAYA in Tokyo.
It has also been decided that a release tour ``Phantom Youth TOUR'' will be held at 21 live houses nationwide.
Check out the band's official website for details.
https://bokula.jp/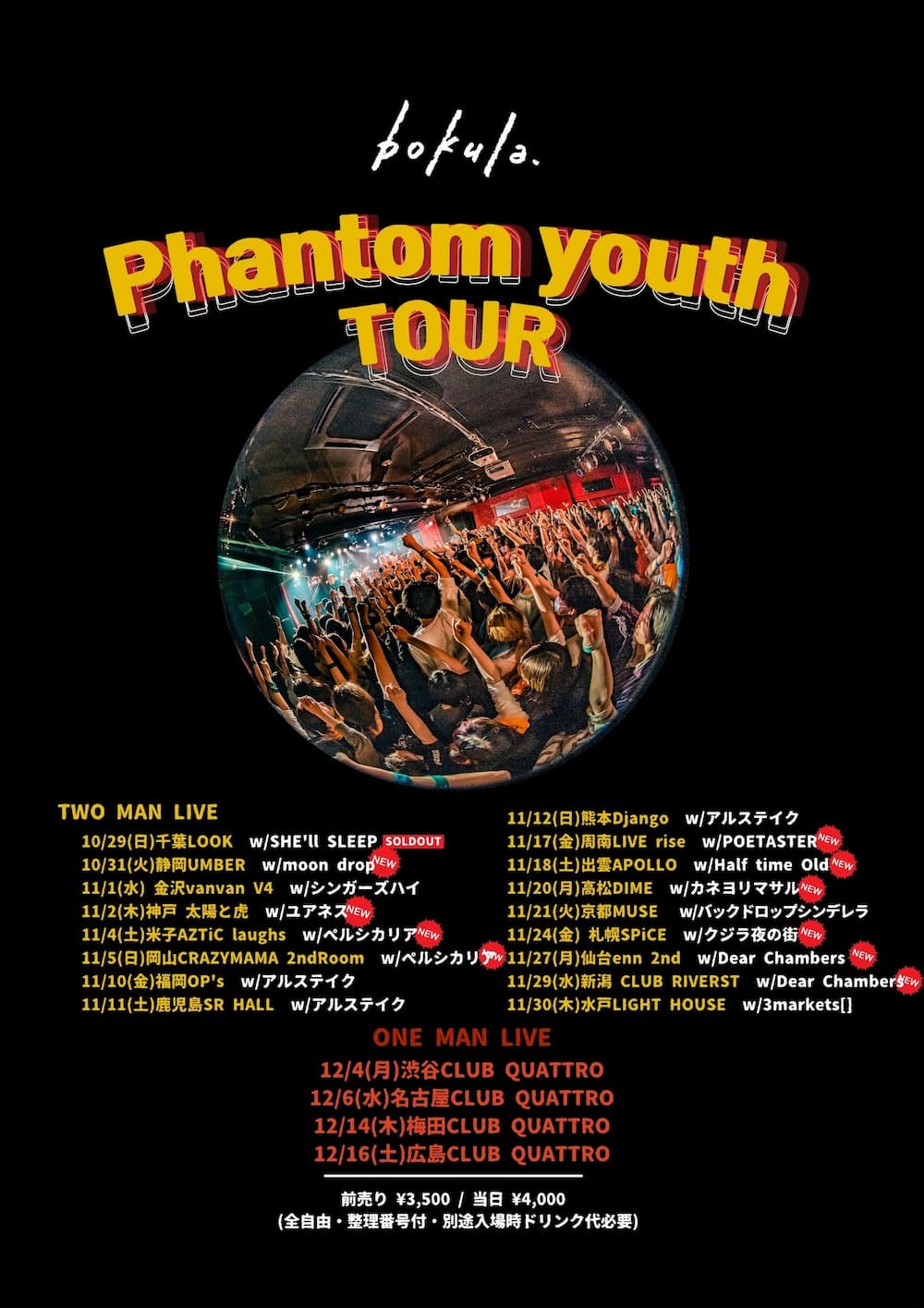 【release information】
4th EP "Phantom youth"
2023/10/11(Wed) RELEASE
[recorded music]
1. Aotohar
2. Girl Blend
3. Ultramarine Singing
4. Koiniochite
5. I'm like this, but I'm sorry
LDSF-00012 / ¥1,760 (tax included)
STAY FREE!!!!!!!!
Distribution site: https://orcd.co/bokula
■Purchase common benefit: Megaer photo
(Excludes some corporations)
▼Tower Records
https://tower.jp/item/6093388/Phantom-youth
▼TSUTAYA
https://sp.shop.tsutaya.co.jp/cd/product/4580529531347/
<Ticket>
Advance ¥3,500 / Same-day ¥4,000 (Dee not included)
https://eplus.jp/bokula/
<<Tour special site>>
https://bokula.jp/phantom-youth-tour/