LD&K starts a label contract form that "does not distribute to retail stores"
LD&K Announces New Standards for Label Contracts
2018 LD&K Statement
---
LD&K has entered its 23rd year since its establishment on November 30, 1995 as a label and music production company.
An artist who signed a contract with a major label, and an artist who is still active in indies.
A total of about 850 titles, involved with about 300 groups of artists, rehearsal & recording studio, distribution / mail order, advertisement, live house, event production, merchant, music publishing, copyright management, crowdfunding platform for fundraising, etc. , I have created all the infrastructure related to music on my own, albeit minimal.
And 2018 will come.
LD&K's philosophy of "For Artist" is a statement.
that is
"Entering an era where the artist himself "chooses" the contract form for sound source releases"
That's what it means.
SNS and streaming distribution have become popular, and now that artists can transmit their own sound sources and release information, it is "what is necessary for artists".
that is,Depending on the standing position and goals placed, you can maximize the "source of artist activity" with the contract form of the sound source release that you have chosen.
I believe that this will help artists face music.thinking about.
I hope that this will trigger great music to be heard everywhere, and that it will be an opportunity for artists from all over the country to revitalize the music industry.
---
1.Contracts with major labels and sound source package earnings
In the 1990s and early 2000s, before the spread of SNS, the goal was to make a major label contract = a major debut in order to increase the name recognition of an artist.
Triggered by the know-how and rule of thumb for hits possessed by major labels, as well as a large amount of advertising expenses, their name recognition rose at once.
There is an advantage that live mobilization etc. will be dramatically improved. On the other hand, it is not a method that everyone can do because it is a very narrow gate.
By the way, the general income structure of CD packages in contracts with major labels is shown in the pie chart below.
In the case of a CD album of 3,000 yen (excluding tax), the artist's share is[1% = 30 yen]was the most common contract. There are many cases where these terms and conditions are still in effect today.
Also, when an artist self-manages, depending on the size of the production and the relationship value between the major label and the production, there is also a form of joint mastering, which divides the mastering cost in half, in the form of mastering royalties. In that case Max[7-9% = 210-270 yen]is the share. (* Note 1)
The average number of copies produced per title in 2016 was 607.(* Note 2) There is also a statistics, even if it is assumed to be 5,000 sheets
Minimum [150,000 yen], maximum [1,050,000 to 1,350,000 yen]It will be the sound source package revenue if you contract with the current major label.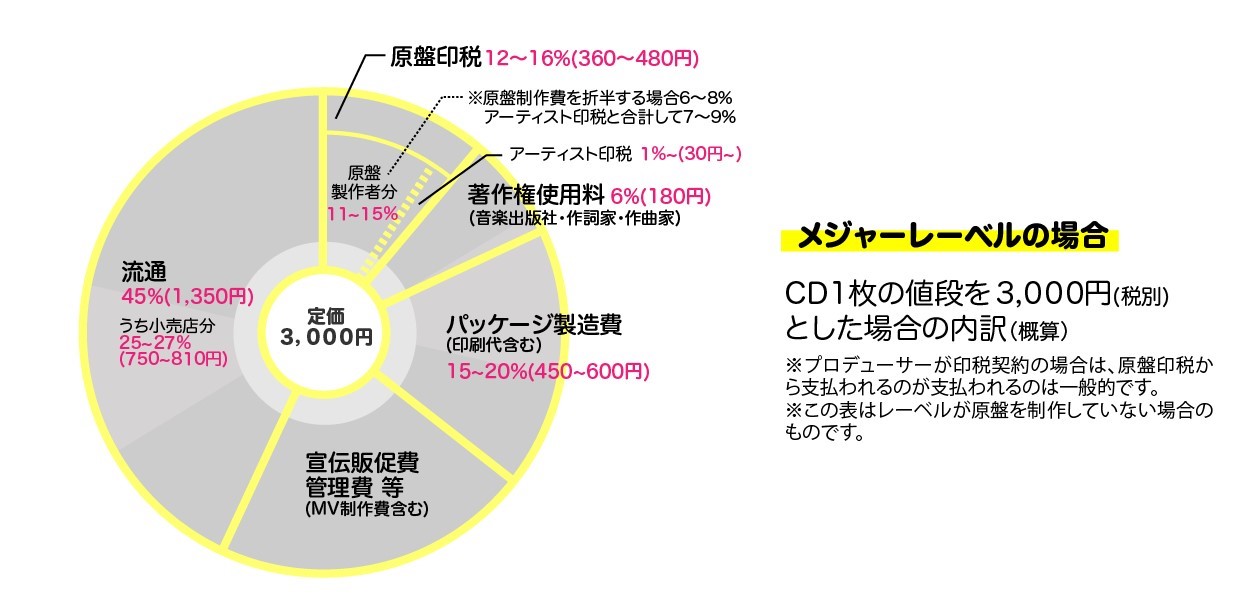 (Excerpt from Musicism (published by Japan Association of Music Producers) /
Quote source:http://www.ongakusyugi.net/special/201604000264e732c )
(*Note 1) If the artist himself or herself is the lyricist/composer, 1.5% of the lyricist and 1.5% of the composer will be charged separately from the copyright management organization.
(*Note 2) Data excerpts and quotes from the 2016 Recording Industry Association production results
http://www.riaj.or.jp/f/data/index.html
・Number of CD albums produced: 84,511,000
・ Number of CD album titles (10,900 new records + 128,400 catalogs): 139,300 titles in total
・Average per title: 607
---
2.Regarding the label contract with LD&K and revenue from the sound source package
In the case of a CD album of 3,000 yen (excluding tax),
The artist's share is[5-8% = 150-240 yen]I have a contract with
In addition, there is also a form of mastering royalties as a joint mastering where the mastering cost is shared with the artist.
In that case Max[11-15.5% = 330-465 yen]is the share. (* Note 1)
Even if it is assumed to be 5,000
Even at minimum [750,000 yen], which is five times that of major labels, even at maximum [1,650,000 to 2,325,000 yen]It will be the sound source package revenue when contracting with LD&K.
As with the above major labels, we will take care of the time and effort involved in store development costs, package manufacturing costs, advertising costs, etc.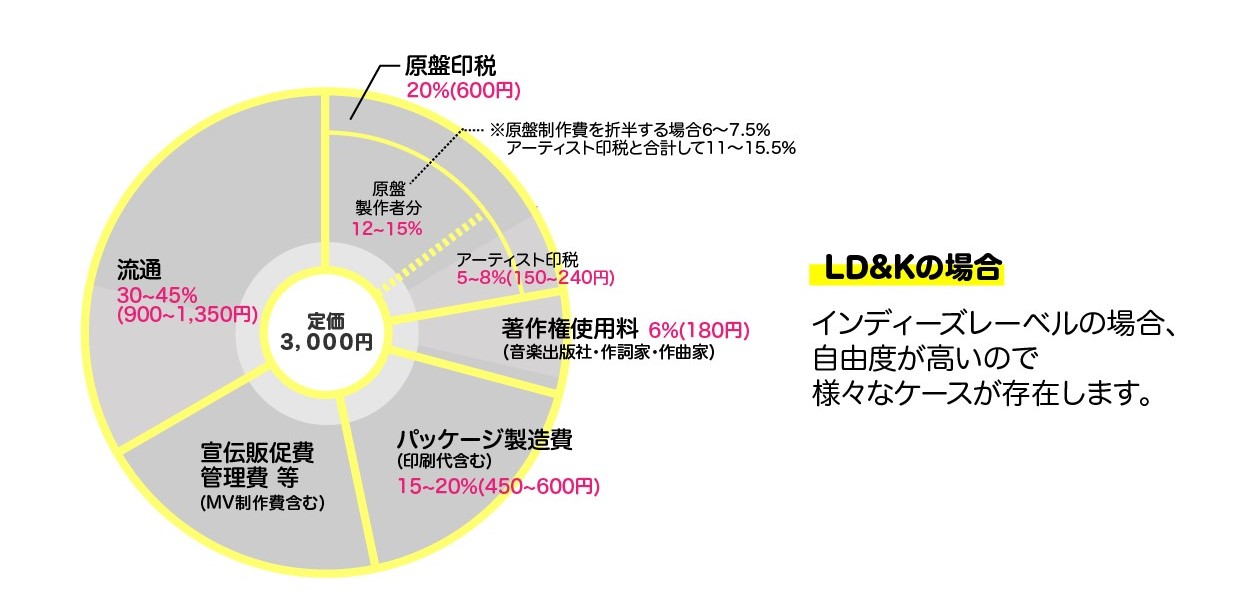 ---
3.Regarding distribution of new sound source packages proposed by LD&K
Due to the CD recession, the number of CD stores continues to decline, and at the same time, the competition to acquire store openings is intensifying.
By the way, opening a record shop incurs costs as store development costs, but that amount is becoming very expensive due to the competition.
In addition, since 2010, we have been able to acquire fans through video posting sites and SNS transmissions, and our mail order and distribution infrastructure is developing rapidly.
In response to that, this time other than the above 1.2"Do not distribute to retail stores"We propose a new option.
On the premise that many artists will agree with us, by providing economies of scale
The mail-order page will be launched with a 20-30% (*) handling fee for creating the mail-order page and shipping/storage.
・We only receive the minimum materials such as product prices and product names, and we will create the mail order page.
・Cash on delivery, convenience stores, and credit card payments are prepared for a variety of users.
・We offer free shipping for purchases of 5,000 yen or more, making it possible to purchase in bulk with artists from other bands.
・You can save the trouble of shipping and situations where storage space is insufficient.
*Varies depending on selling price and type.
*All design and manufacturing costs and inventory risks are the responsibility of the artist.
* A 5% settlement fee will be charged separately.
---
4. When making a label contract with LD&K not to distribute at retail stores
By combining with 2.3 above, distribution costs to retailers can be reduced,
It will be possible to make the artist's share [15 to 231 TP2T].
Also, if the cost of producing the master is shared with the artist, it will be possible to maximize it to [21-30.5%].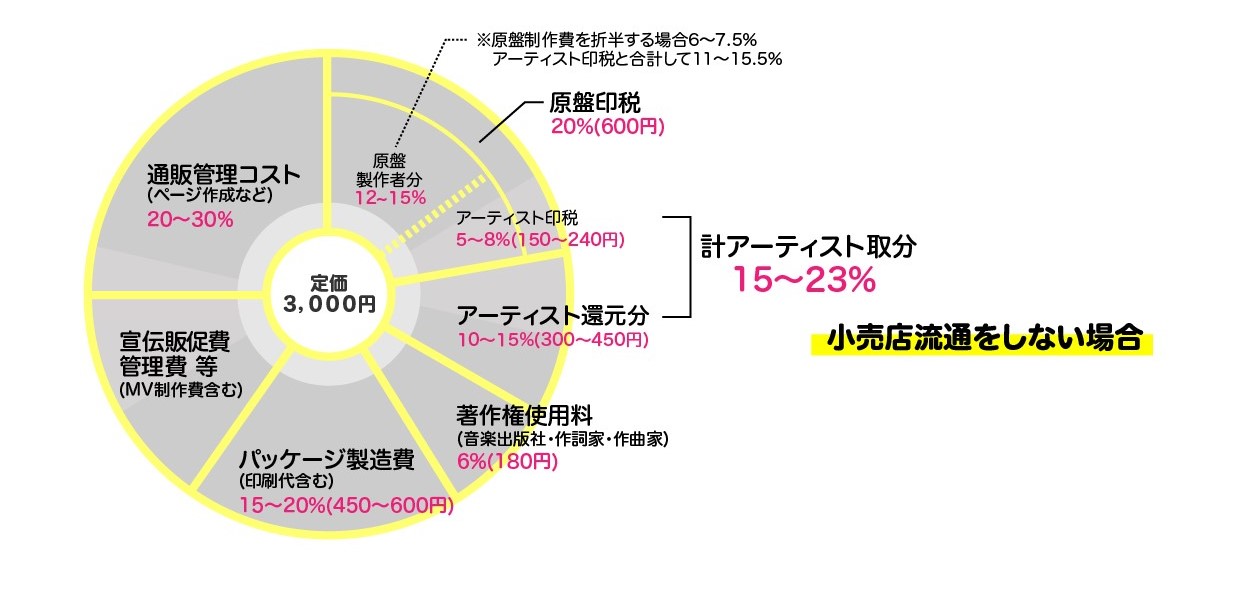 ■Please cooperate so that artists can face music.
If you can relate to this statement even a little, I would be really happy if you could share it on Facebook or Twitter.
I would appreciate it if you could watch over me with warm eyes.
Thank you very much for reading this far.